Yamaha R15 V3 I Feature Review | REvV INDIA
Yamaha R15 v3 is back with stunning  looks.
The journey was started at the year 2008 and from that time one name become popular among the bikers inside different countries including india, indonesia, Bangladesh. And that name is R15. Among all the popular premium bikes of Yamaha this name is at the top of the list surely. Especially youth has got craze over this name and undoubtedly the body and the engine performance is worthy of that expectation, it can satisfy a rider within a blink.
This motorcycle also called as the dream bike of Yamaha lovers among the 150cc category. When it first arrived at the local market the first model was named Yamaha R15 Version 1 and the second model was named Yamaha R15 Version 2.
Among the low segment pure sports category body type and engine performance was provided with them and that is why they never get short of popularity. Almost ten years have passed with these two models and now recently Yamaha Has introduced the latest model of this series Yamaha R15 Version 3 or v3. This new version is more attractive and muscular than before and not only that the features are also updated for the users. Not only in india but also inside all those local markets where this bike is available we have to put this bike at the top side of the choice list. So let us review yamaha R15 v3 and not waste time and look at what this bike contains with it and what are the new added things.
Firstly lets get familiar with the new features that this bike includes.
VVA technology
Full form of VVA is Variable Valve Actuation and this technology is not usually seen at the other bikes but Yamaha has used this technology for their bikes. Because of this reason Yamaha bikes are one step ahead. Talking about this thing, variable valve timing is the process of altering the timing of a valve lift event, and is often used to improve performance, fuel economy or power output. It offers good throttle response and maintains the contrast of power and torque output. Yamaha Personally claims because of VVA technology speed will be better up to 14% and the mileage will increase up to 4.7%.
Assist and slipper clutch
Because of Assist technology used in yamaha R15 V3 , the clutch remains smoother and Slipper clutch technology ensures soft gear shifting and fast acceleration both and it ensures an additional safety
Deltabox Body frame
For V3 Yamaha has used Deltabox Body frame and that will offer more stable riding, and not only that it will also ensure a durable body structure.
Hazard Lamp
It is a great safety feature which helps a rider at the foggy and rainy days especially when visibility is a big issue. So it is really a compulsory thing by the way.
Design
Comparing the other two models few changes are seen at this bike and they are well matched with it. YAMAHA R-SERIES DNA with sharp double headlights is taken for this bike and it looks excellent on it. Because of them the charm of this bike enhanced and the aerodynamic shape makes the bike similar to the race tracks bikes. At the previous models Halogen type dual headlamp were placed but the new sharp headlamps combined with muscular body kit for this bike and makes the design more than perfect.
yamaha R15 V3 has a all led tail lamps which makes the bike charming from the back side as well. Alloy RIMS, aluminium swing arms, stylish Disc plates and wider tyre all has made this bike more eye-catching.
Graphics
New version and that is why the whole graphics is different. Looking at this bike people will be ensured about the work ability of Yamaha, no doubt. Both the graphics and design completely matches with each other and make this bike elegant.
Body dimension
As we can see this bike is a sports category bike so Yamaha didn't compromised with the dimension. Talking about the dimension it has 1990mm length, 725mm width and 1135mm height. The seat height is 815mm, wheelbase is 1325mm and the ground clearance is 155mm. though the fuel tanker looks muscular but it can hold only 11 Liters of fuel and all these dimensions makes the overall weight of this bike 137 KG.
Engine
155cc Liquid Cooled 4-Stroke, SOHC, 4 Valve, VVA and A&S Clutch engine is placed for this bike. Because of this kind of engine Yamaha R15 V3 can easily produce 14.2Kw@ 10000 RMP max power and 14.7@ 8500 RMP max torque. This bike has Fuel injection system inside the engine and for that reason the fuel coast is lower. With all this Yamaha is claiming the mileage 40 KM/L and the top speed 131 KM/H at least. This engine has TCI type ignition system and the compression ratio is 11.6 ± 0.4: 1. To fire up the engine this bike holds only electric starting options. Most importantly it has six speed gear box to operate.
Braking
As we have seen Yamaha is claiming an excellent speed of this bike and to control that they also place double disc braking system in this bike. To offer the riders more stable and effective braking Yamaha gives diameter of 282 mm front disc plates and 220mm rear plates at the braking. No compromising at the braking makes this bike more trusted and well performing.
Suspensions
For making the handling more perfect, maintain the bike more stable, and also for handsome looks this bike contains upside down suspensions. At the rear side best quality Mono Shock suspension is seen and a light weight Aluminum Rear swing arm for more stable motorcycle control is placed.
Tyre and wheel
Both the wheels are stylish alloys and the measurements of them both are 17 inches. Super wide tyres are placed at the front tire R15 V3 has 100 / 80-17 and at the rear side it has 140/70 -17 which presents the stability of driving and excellent gripping. Both the tyres are tubeless.
Electrical
Many changes are seen at the electrical side at this bike and they are latest according to the times demand. LED Headlamp, LED side indicators, stylish LED back lamp, Hazard light fully digital panel lighten with lights all are excellently placed and to operate them this bike has 12 V, 4.0 Ah(10 HR) Battery. As we all know that AHO technology is now mostly mandatory so this bike also consist that technology as well.
Meter console
yamaha R15 v3 has fully digital instrumental console and that is more stylish, Speedometer, gear indicator, fuel gauge, ODO, Trip meter Clock etc all the necessary things are present at this bikes meter console.


Color
yamaha R15 V3 is available with three different color and all are combined with black commonly. They are pure Black, blue and Yellow.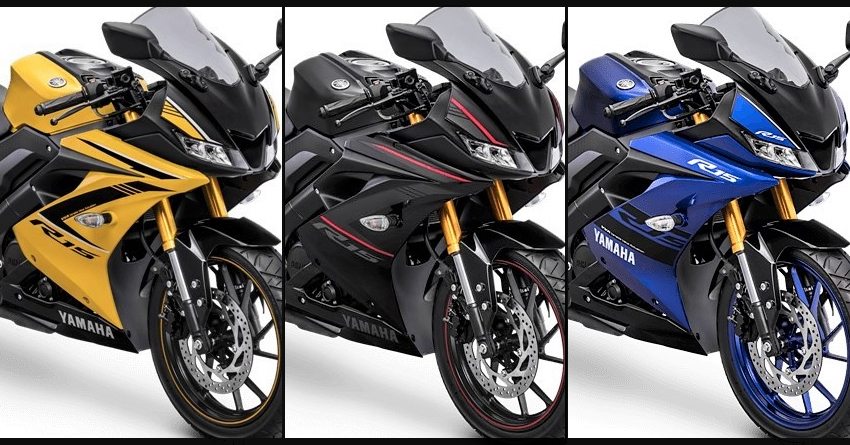 Verdict
No doubt this bike has all the needed features that can attract a rider. In our country this bike also has a great popularity and craze and to maintain that thing Yamaha introduced this bike named yamaha R15 V3. After watching all the features it can be assumed that like the previous models this bike will also take place to the youngsters heart and the popularity will be more.